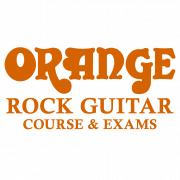 A fully accredited exam experience for students wanting to take a graded approach to the guitar. Orange have collaborated with Online Music exams (link) to create the first guitar grade experience held completely online.
Orange Rock Guitar Syllabus
An exciting new way to learn Rock Guitar, the Orange Rock Guitar syllabus will develop you into a well-rounded Rock Guitarist giving you plenty of space to develop your own style.
The syllabus is crammed full of compound exercises, meaning that you will learn more than one technique when practising each individual exercise or progression.
The syllabus is divided into just three sections – Foundation, Intermediate and Advanced. Rather than having to learn 8 traditional grades, you will only need to study the three individual sections that we have set out , providing you with a faster and more thorough method of learning to play Rock Guitar. By the time you have completed the Advanced section, you will have completed Grade 8.
There are various sub-styles within the Rock music genre, so we have carefully chosen a variety of speeds, exercises and pieces to give you plenty of room to develop your own style. The discipline required and core techniques to becoming a professional Rock guitarist are the same, whether you want to play like Brian May, Jimmy Page or John Petrucci!
Affordable and Accessible education brought to you by Orange, powered by our partners onlinemusicexams.org
Choose a course that matches your level best. For example, Foundation is Beginner to Grades 1 and 2 (out of 8).
No products found which match your selection.