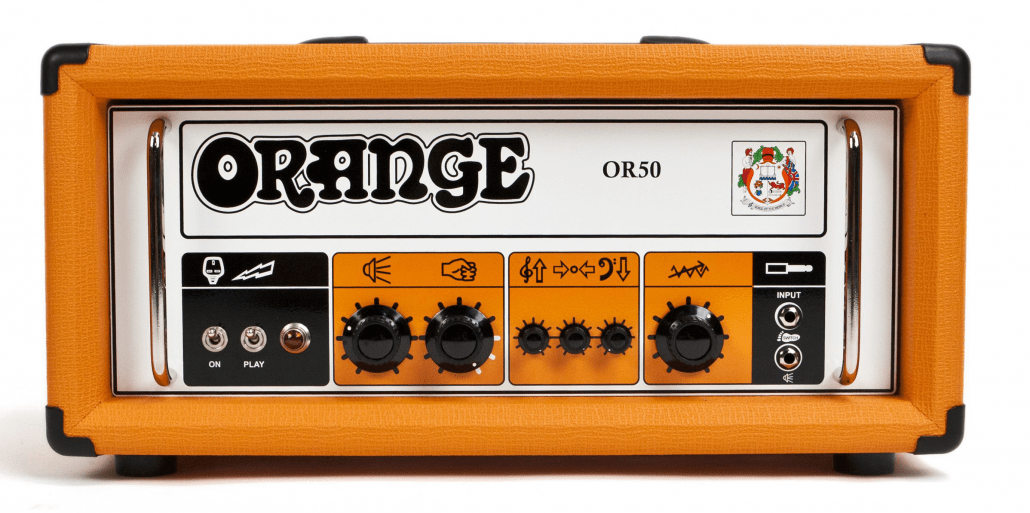 Power
Switches mains power to the amplifier on/off. Connect the supplied IEC/Mains cord to the AC Mains inlet (rear). The power LED will illuminate when the mains switch is set to ON. Set the VOL. control to zero/minimum before switching on power to the amplifier.

STBY toggle switch
When this switch is in the up position, the amp is in STBY mode. Refer to 'Before Using Your Amplfier'. Select the PLAY (down) position for performance.

Volume
The volume control adjusts the output volume. This control can be completely defeated via a latching footswitch. High levels of volume will heavily overdrive the output stage.

HF Drive
The HF Drive control does two things. It filters the high frequencies when turned anti clockwise, but also boosts the presence of the output stage when turned clockwise into the white area. This boost will be much more apparent at high volume levels.

Treble
Controls the treble response of the amplifier.

Middle
This controls the midrange response of the amplifier.

Bass
This controls the bass response of the amplifier.

Gain
This controls the pre-amp gain of the amplifier.

Input
Use a quality shielded instrument cable to connect your instrument to the INPUT jack socket. The PAD switch (-6dB) selects the correct input level for instruments with active or passive pickups.

Footswitch
Plug a latching footswitch into this jack socket to remotely switch/remove the Volume Control from the circuit. This has the effect of running the amp 'wide open'. This can be used as a volume boost as the volume control is bypassed.
1. Speaker Outputs
Refer to 'Before Using Your Amplifier'. Make sure the correct speaker load and power handling is connected!

2. HT Fuses (HT1, HT2)
These fuses will both blow simultaneously if either of the power amp/output stage valves fail. This helps to protect the amp's circuitry. Have a qualified service technician set the bias of the amplifier when changing faulty valves.
2 x T500mA.
3. AC Mains Inlet
Connect the supplied IEC/mains cord to the mains input and connect the plug to your AC mains supply. Refer to 'Before Using Your Amplifier'.

4. Mains Fuse
The mains fuse is located in the tray directly below the AC Mains Inlet. If the mains fuse blows, replace only with the exact rating for your region. Use only the correct fuse type. If the mains fuse repeatedly blows, contact your Orange dealer.

Region/Voltage
100 – 120V T5A H
220/230 – 240V T2A H

5. Voltage Selector
This is factory-set for the region in which the amplifier is intended to be sold. Do not tamper with this switch. Refer to 'Before Using Your Amplifier'.

European HQ
Online Music Exams,
SB Business Centre,
Triq Dun Karm,
Birkirkara Bypass,
Birkirkara, Malta.
UK HQ
Online Music Exams
Unit 9
Abbey Mead Industrial Park,
Brooker Rd, EN9 1HU,
UK