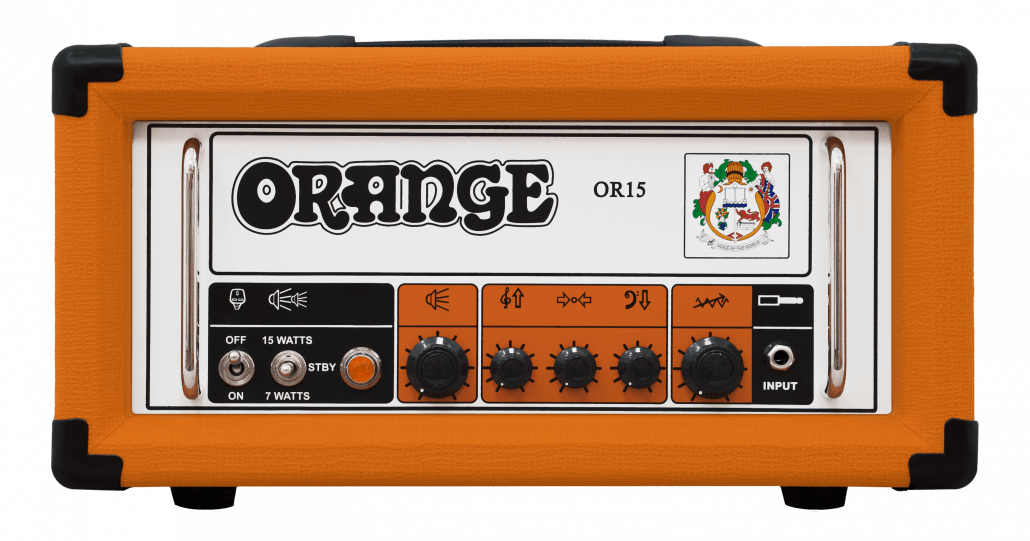 Power
Switches mains power to the amplifier on/off. Connect the supplied IEC/Mains cord to the AC Mains inlet (rear). The power LED will illuminate when the mains switch is set to ON. Set the VOL. control to zero/minimum before switching on power to the amplifier.

Output
Make sure that the 15 WATTS/STBY/7 WATTS output switch is in the STBY (middle) position before switching the power switch to the ON position. The output switch runs the valves at a low plate voltage (reducing output power) in the 7 WATT position and at a higher plate voltage (increasing output power) in the 15 WATT position

Volume
The volume control adjusts the output volume. High levels of volume will heavily overdrive the output stage.

Treble
The Treble control adjusts the level of treble after the pre-amp stages and before the FX Loop.

Bass
Controls the bass frequency band 40-400Hz

Middle
The Middle control adjusts the level of midrange after the pre-amp stages and before the FX Loop.

Gain
The gain control adjusts the gain. High levels of gain will heavily overdrive the pre-amp. With the gain set to zero, no sound will be heard.

Input
Use a quality shielded instrument cable to connect your instrument to the INPUT jack socket. The PAD switch (-6dB) selects the correct input level for instruments with active or passive pickups.
1. Speaker Outputs
Refer to 'Before Using Your Amplifier'. Make sure the correct speaker load and power handling is connected!
2. FX Loop
Connect the send jack on the amp to the input jack of your mono pedal and the out to the return to use this feature.
3. HT Fuse
The high tension fuse protects transformers and other circuitry from blowing in the event of an output valve shorting.
T250mA L
4. AC Mains Inlet
Connect the supplied IEC/mains cord to the mains input and connect the plug to your AC mains supply. Refer to 'Before Using Your Amplifier'.

5. Mains Fuse
The mains fuse is located in the tray directly below the AC Mains Inlet. If the mains fuse blows, replace only with the exact rating for your region. Use only the correct fuse type. If the mains fuse repeatedly blows, contact your Orange dealer.

Region/Voltage 4 Stroke 300 4 Stroke 500
100 – 120V T1A
230 – 240V T500mA
European HQ
Online Music Exams,
SB Business Centre,
Triq Dun Karm,
Birkirkara Bypass,
Birkirkara, Malta.
UK HQ
Online Music Exams
Unit 9
Abbey Mead Industrial Park,
Brooker Rd, EN9 1HU,
UK