| 1. DC INPUT | The OMEC Teleport requires an 9V dc external power supply. (Not supplied) The barrel plug should be a 'standard 2.1mm pedal type' with a centre negative polarity (centre –). The maximum current draw of the OMEC Teleport at 9 Vdc is 85 mA. Make sure the power supply meets these specifications. |
| --- | --- |
| 2. INPUT | Connect your instrument to the input jack. |
| 3. BYPASS SWITCH | Engages/bypasses the OMEC Teleport. The LED will illuminate when the pedal is active. |
| 4. OUTPUT 1 | Connect the OMEC Teleport to your DIs, mixing desk, amp, powered speakers, pedalboard or PA |
| 5. OUTPUT 2 | Connect the OMEC Teleport to your DIs, mixing desk, amp, powered speakers, pedalboard or PA |
| 6. USB B | Connect your OMEC Teleport to your laptop or other mobile device |
AN AUDIO INTERFACE FOR THE STUDIO AND GIG
The OMEC Teleport interface is a universal connection device (IOS, Android, Mac, PC) without any specific drivers or software requirements. It features high quality ADC/DAC converters – through a USB B connector – housed in a small effect pedal enclosure.
The Teleport allows you to convert both analog audio signals (an instrument for example) to digital to be processed with the many applications available. Additionally, the Teleport gives you the ability to convert digital audio signals to analogue (through mixers, D.I. boxes, amplifiers, etc.).
With this versatility the Teleport can be used for a wide range of applications: musicians that want to play, record, mix or process their sound, with the autonomy provided by mobile devices; Bluetooth connected musicians, like keyboard players or DJs employing the same devices for their sessions; even the amateur music lover who wants to convert music stored on their devices to analogue with renewed quality.
IN USE
The OMEC Teleport is an analogue to digital converter (ADC) and digital to analogue converter (DAC) in a pedal functioning as an external soundcard for your mobile device or PC/Mac, converting your instrument's signal into a digital audio signal. If it's possible with digital audio, it's possible with the OMEC Teleport.
You can use OMEC Teleport with your favourite apps/software and also include it on your pedalboard like an effects pedal. The Teleport is compatible with any USB device that can manage digital audio signals, via a standard USB-B to USB-A cable.
You will need to add a USB adaptor for mobile devices: – Camera Kit for iOS – OTG for Android.
Note: The OMEC Teleport uses buffered bypass so some true bypass pedals, such as Wahs and Fuzzes will work best placed in front.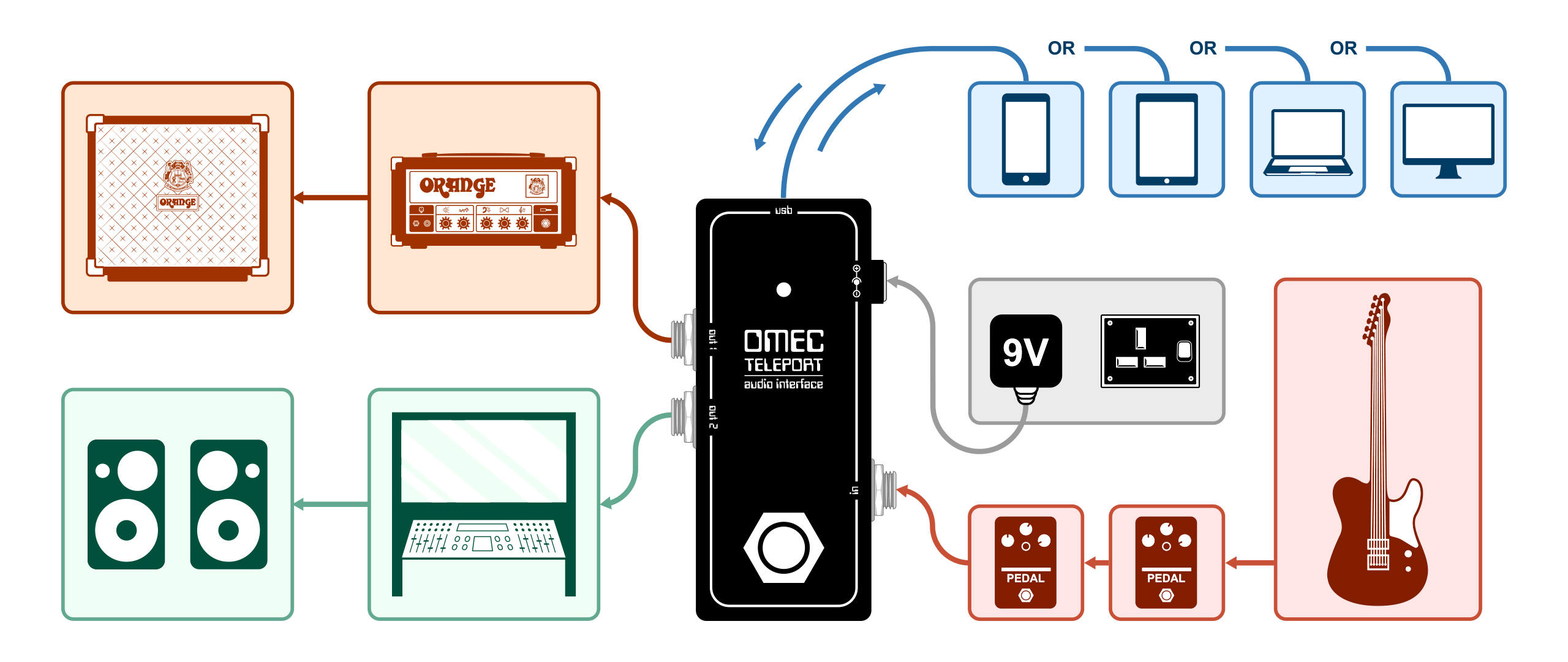 European HQ
Online Music Exams,
SB Business Centre,
Triq Dun Karm,
Birkirkara Bypass,
Birkirkara, Malta.
UK HQ
Online Music Exams
Unit 9
Abbey Mead Industrial Park,
Brooker Rd, EN9 1HU,
UK